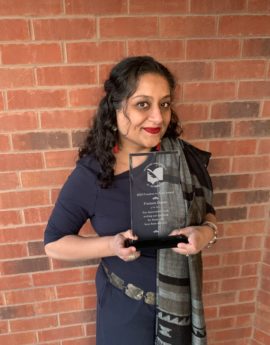 The Freedom To Read Award is presented annually by The Writers' Union of Canada "in recognition of work that is passionately supportive of access to books and the freedom to read".
Past recipients include authors David A. Robertson, Ivan Coyote, Jael Richardson, Mohamed Fahmy, and Lawrence Hill, and bookseller and community-builder Anjula Gogia.
I'm grateful for this honour. It's so meaningful to me because I'm being honoured for my #endFGM contributions through my writing.
Canadian journalist/filmmaker, Giselle Portenier, nominated me. She said: All of Doctor's books have addressed topics of social justice and immigrant life, but it's her fourth novel, Seven, that caught my attention for being especially ground-breaking. It takes up the issue of khatna, or female genital mutilation/cutting (FGM/C) in her insular Dawoodi Bohra community.
Doctor's writing has helped to shift this silence and is helping to make change… she has educated thousands of individuals about FGM/C. This is no small feat. Thousands more have read the book, minds opened by the power of fiction and narrative. 
Click on the photo for the full press release.
SEVEN's foreign rights are available outside of North America.
Find the book here.
_______________________________________________________________________________
I'm excited to announce that my 6th book, a YA novel, will be coming next year.
The Beauty of Us and is being published by ECW Press. It takes place at a private boarding school in the '80's and is about a group of BIPOC girls who solve a mystery and catch an abuser. It's fiction, but inspired by the one weird year I spent at a boarding school when I was fifteen.
Thanks to Rachel Letofsky for being a great agent. Now I'm looking forward to going into edits with the wonderful Pia Singhal.
Look for it in Spring 2024.
_____________________________________________________________________________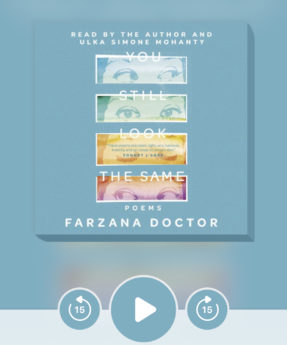 And finally, a request! When You Still Look The Same came out last spring, I commissioned ECW Audio to create an audiobook. I wanted a version that would be accessible and aural, even to folks who don't read much poetry. It's narrated by Ulka Simone Mohanty and me. I think it's quite beautifully produced!
Listen to a sample here.
Now, I'm trying to get the word out. Can you help? Please ask your local library to purchase a copy. If they already have it, place a hold and borrow! It'll be on Overdrive or Libby or whatever platform you currently use to borrow e-books and audiobooks through your local library system. It's available worldwide.
And please don't hesitate to ask me to do the same if you're trying to promote a book. It takes a village.